Porsche 356 "Gmünd"
1949
Vijftien jaar lang – tot het verschijnen van de 901 – was Porsche
een autofabrikant met één model: de 356. Als constructiebureau
dat in opdracht werkte, was het door Ferdinand Porsche opgerichte bedrijf vooral roemrucht vanwege de geavanceerde en soms nogal experimentele ideeën van de oprichter en zijn voorkeur voor exotische motor-, aandrijf- en onderstelconcepten. Maar in een tijd dat simpele massaproductie werd verlangd, was het een Oostenrijks-Italiaanse connectie die hem in de vroege naoorlogse jaren liet beseffen dat het best wat eenvoudiger kon. Prototype 356/1 was in 1948 gereed – een roadster met buizenframe, aluminium carrosserie en een midscheeps
geplaatste, opgevoerde Volkswagenmotor. Prototype 356/2 (met de motor weer achter de achteras en een platformconstructie) volgde al snel en met een ontworpen carrosserie van Erwin Komenda begon een bescheiden productie.
For fifteen years – until the appearance of the 901 – Porsche was a car manufacturer with one model: the 356. As a coachbuilding firm that worked on commission, the company started by Ferdinand Porsche mainly achieved notoriety for the founder's advanced and sometimes quite experimental ideas and his preference for exotic engine, drive and chassis concepts. At a time when there was a demand for simple mass production, it was an Austrian-Italian connection that made him realise during the early post-war years that things could be simpler. Prototype 356/1 was ready in 1948 – a roadster with a tube frame, aluminium body, and a midship-mounted, souped-up Volkswagen engine. Prototype 356/2 (also with the engine mounted behind the rear axle and featuring a platform construction) soon followed, and with a body designed by Erwin Komenda, a modest level of production began.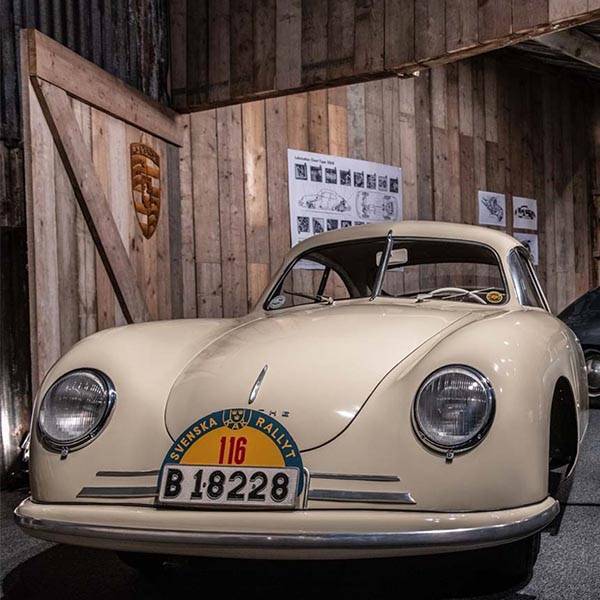 NIEUWSBRIEF
Stay
up to
speed!