Organisers report 24,000 visitors, up 26% from 2021
Brussels, 20 November 2022 – The organisation is pleased to look back on a successful seventh edition of Classic Car Show Brussels. Fans of cars, youngtimers, supercars, simracing and automobilia travelled en masse to Brussels Expo just like they used to. The themes '75 years of Ferrari' and '50 years of BMW M' were a big hit with the visitors. Equally crowded was the premiere of the all-new KTM X-Bow GT-XR and the 'Best of Show' chosen by the jury. The winner was an extremely flamboyant Lancia Astura (series 3) tipo Boca from 1936. A survey of exhibitors showed that many cars changed hands during the event. This applies to both professional classic car dealers as well as private sellers at the AutoScout24 Area. A few well-known visitors also visited the exhibition, such as Prince Laurent of the Netherlands, former F1 racer Thierry Boutsen, Minister of State Guy Verhofstadt, actor and presenter Andy Peelman, and radio host Guy de Pré. Of particular note was the attendance of families who viewed the gloomy weather as a perfect reason to travel to Brussels Expo. There was a variety of interesting offering for people of all ages.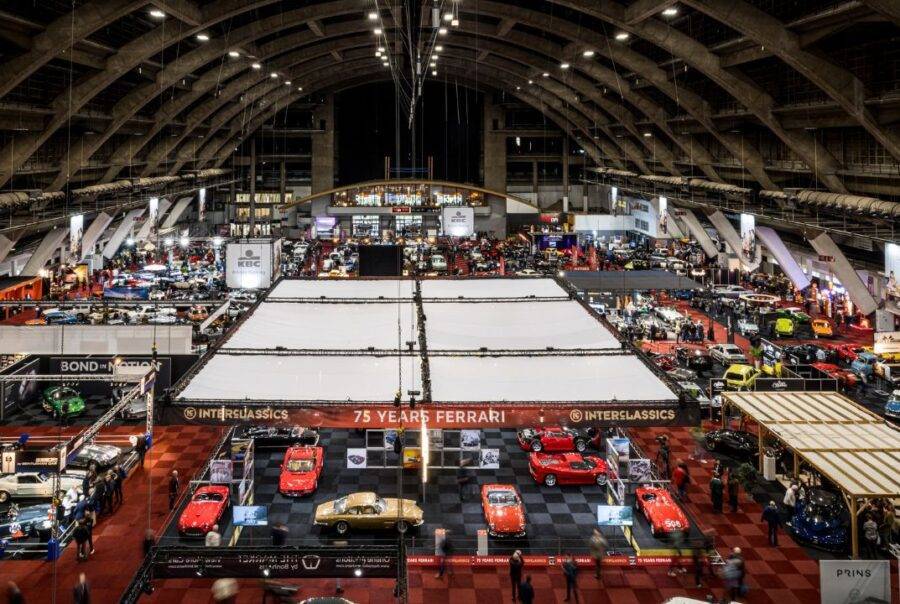 Erik Panis, Manager of InterClassics: 'The positive responses from our sponsors, exhibitors and visitors make it clear that – despite the financial uncertainty in the world – classic cars are still an outlet for many. We are also very proud to see the event back to pre-pandemic attendance levels. This gives us hope for the future!'
The event stands out thanks to the combination of its commercial and passionate nature. Erik Michiels, Managing Director at Porsche Centre Antwerp:
'For us, partnerships are very important. InterClassics gives us a forum where we can showcase our luxury brands. Our years of participation have shown us that the event raises the level of quality every year. You can feel the visitors' passion rise to the surface. Being able to pay extra attention to this in such a setting is naturally very important.'
Julian Messent of Historic Competition Services underlines the fact that the Belgian event's strategic location contributes to the sales results.
'Classic Car Show Brussels is ideal because it is held at the heart of our customer base's location, but we also place a focus on the global audience. InterClassics provides an opportunity to exhibit to our key customers. The show has proven successful for us, and this year's edition was no exception!'
From 12 to 15 January 2023, car enthusiasts can attend the four-day InterClassics Classic Car Show Maastricht at MECC Maastricht. Next year's focus will be on Dutch Grand Prix Classics. The organisation is collaborating with international museums and private collectors for the event. All the Formula 1 cars that will be displayed have a connection to Circuit Zandvoort's special F1 history.
InterClassics has announced that the eighth edition of Classic Car Show Brussels will be held from Friday 17 to Sunday 19 November 2023 at Brussels Expo. For further information on the exhibition, please visit www.interclassics.events.